Session 2:      Dynamic Networks and Floating Nodes
Title:           Airports -  Nodes to Modes
Author:           Antonia Cornaro
Abstract
| | |
| --- | --- |
| I discuss the significance and characteristics of airports as dynamic networks and nodes - from a transport, economic, environmental and time-space perspective. Real-life examples are given wherever applicable, with a focus on Amsterdam Schiphol Airport (congress point of arrival for many) and London's airports (my home at time of writing). | |
Introduction
Airports are fascinating places where people from all over the world converge to travel to hundreds of destinations. Airports link a place with the rest of the world.
They continuously accommodate more travellers and faster technology.  There are hardly any airports in the world that are not undergoing expansion or modernisation, or that are not planning on doing so. 
Airports represent modern gateways to cities.  They are crucial for export and tourism and are therefore major contributors to a city's local economy.
Globalisation and associated rapid growth in international trade and communications give air transport ever increasing importance. Airports reflect and determine a city's competitiveness.  Every major city now realises it needs effective and integrated infrastructure to attract investment and boost local economic activity. [i]  
Cities that have integrated well functioning transport infrastructure are therefore at a competitive advantage.
1.
From exclusive to mass transport mode
Since the flight of the first jetliner in 1949 air transport has grown like no other mode. It used to be highly exclusive and accessible to a privileged elite only.  Technology was not advanced enough to fly a large volume of people safely and cost-effectively.

Since then aircraft technology has made continuous advances in comfort, safety, and speed.

 

In addition, liberalisation of formerly protected national carriers has played a major role in making airlines more competitive and in reducing their fares.

 

The result is that more people fly more often and further than ever before.
2. Aviation is one of the world's fastest growing industries
| | |
| --- | --- |
| Air travel has been averaging 6% growth in the 1980s and 1990s, typically 1.5 times a country's GDP.  It is forecast to grow at a worldwide average of 4.7- 5% annually for the next twenty years. [ii] | |
ACI Traffic Data: World airports ranking by total passengers - 2000 (Preliminary)
 Last update: 26, March, 2001
Rank

Airport

Total
Passengers

% Change

1

ATLANTA, GA (ATL)

80'171'036

2.8

2

CHICAGO, IL (ORD)

72'135'887

-.7

3

LOS ANGELES, CA (LAX)

68'477'689

5.1

4

LONDON, GB (LHR)

64'607'185

3.8

5

DALLAS/FT WORTH AIRPORT, TX (DFW)

60'687'122

1.1

6

TOKYO, JP (HND)

56'402'206

3.8

7

FRANKFURT, DE (FRA)

49'360'620

7.6

8

PARIS, FR (CDG)

48'240'137

11.6

9

SAN FRANCISCO, CA (SFO)

41'173'983

2.1

10

AMSTERDAM, NL (AMS)

39'604'589

7.7
Rank

Airport

Total
Passengers

% Change
3. Airports have become powerful nodes for people, goods, modes and services
What kind of nodes are airports?
a. Transport nodes
b. Economic (&Urban Activity) nodes
c. Nodes for metropolitan growth and development
a. Airports as buzzing transport nodes
Airports are increasingly striving to be ultramodern efficient multimodal hubs accommodating thousands of passengers a day.  Amsterdam Schiphol for example had close to 40 million passengers in the year 2000, which translates into an average of over 100,000 a day. 
Airports used to be relatively straightforward facilities for air transport, but are increasingly becoming transport nodes and activity centres.   The better they are integrated in the local and regional transport network, the better they will serve some of their core functions: distribution of goods and people. [iii]

Airports are arrival, departure, and transfer nodes. We tend to use them for 1-3 hours at a time undergoing a chain of complicated events:

o Arrival at airport by various modes

o Check-in of passengers and luggage

o Boarding Pass/ Passport check

o Security check

o Reporting at the gate

o Boarding the designated seat on the aircraft

o Undergoing a similar process at the port of arrival
More than ever, airports have to deliver quality of service. It is not enough if they reach quantitatively high levels of passengers and movements - they need to perform them at a high qualitative level of service in order not to loose the traffic to a competing city or transport mode. As airport users, we want user-friendly, conveniently reachable, well designed airports with convenient connections and minimum delays.
An airport is more competitive when part of an integrated transport network.  Airports increasingly cooperate with cities on access between the airport and the city. In Switzerland, for example, airports and rail companies (CFF) have formed agreements to enable passengers to check in luggage remotely at any train station in the country.

In London's Paddington Station passengers can perform a downtown check-in of their luggage and travel to Heathrow Airport hassle-free.

  London Heathrow, visualisation of planned Rail Terminal 5
Due to an airport's strategic location (linking a place with the rest of the world) and its asset as transport node, it attracts business and investment.  This, however, impacts the surrounding transport network and access roads.   It is therefore important to plan the airport and surrounding business facilities with a balanced approach in mind; the availability of land and approval to develop being but one criterion, the accessibility to and from the airport another.
Ad b. Airports as powerful economic nodes
Airports are major employment generators and are therefore important contributors to a city's local or regional economy.  Airport related employment usually grows proportionally to passenger traffic.  (The average ratio is approx. 1000 to 1500 jobs per 1 million passengers.)
London Heathrow, Europe's biggest airport, employs about 68,000 persons, handles 90 airlines and 63 million passengers to 200 destinations. [iv]
Studies have shown that when overall productivity is down in a region, airports are even more vital as employment creators and generators, especially in low to medium professions (goods and ground handling, airline ground staffing, maintenance staff, etc.)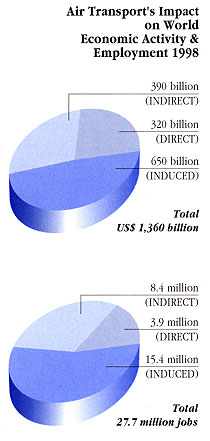 When Manchester airport underwent major expansion in 1994, the unemployment rate for the airport sector was 25% lower than the national level. [v]   "Cities like Manchester have found that no modern regional economy can play a full part at European or global level without an airport of appropriate stature."  In the case of Manchester the airport acted as a "catalyst for economic rejuvenation." [vi]
Munich Airport has since its construction consistently caused the lowest unemployment rate, not only in the province of Bavaria but also in Germany overall. [vii]   The construction of the new airport in itself created between 8,000 – 10,000 construction jobs.
Airports are increasingly diversifying by providing high-tech business facilities, such as conference and exhibition facilities, business centres, hotels, commercial centres, etc. These facilities attract businesses, create employment, increase the competitiveness of a city, and increase an airport's revenues.
Amsterdam Schiphol Airport boasts 100,000 square meters for business related use ("Triport", and World Trade Centre). The Munich Airport Center offers an area of 31,000 square meters for business facilities. The Paris Nord II activity park close to Roissy Charles De Gaulle Airport accommodates over 400 companies, half of which are international, including congress, business, sporting and hotel facilities. [viii]
Ad c. Airports as nodes for metropolitan growth and development
Airports not only create aviation related activity, but attract activities benefiting from a close location to the airport.  A well functioning well-positioned international airport is not only a major asset for a city, but "its economic benefits can spread right across the region." [ix]
Employment and financial flows generated by airport activity (induced effects) demonstrate the role of airports as nodes for metropolitan growth: every airport job creates between 1-3 in the regional economy.
Development patterns are hugely affected by airport growth. London Heathrow and Amsterdam airports for instance attract a high number of Fortune 500 companies seeking to locate near a major international and intermodal hub.
The brand-new airport in Kuala Lumpur was built in conjunction with a "multimedia super corridor" that included a "digital" modern city (Putrajaya) and Malaysia's first "intelligent" city (Cyperjaya), both at 20 km distance from the airport. [x]
The airports that offer the best advantages, including locations with economic potential, no competition from other similar nodes, ample space and political approval for growth, sound environmental management (airport development is sometimes made contingent on noise limits) and intermodality, linking aircraft to high speed train networks, will be able to maximise their strategic asset as node for metropolitan growth.
4. Aviation growth versus environment - How many is too much?
The bigger international airports have thousands and thousands of passengers streaming through their concourses, terminals and access systems on a daily basis. Passenger volumes are outpacing the capacity airports can provide in environmentally and socially responsible ways.
At some major European airports (i.e. Paris and Amsterdam) the respective governments have enforced ceilings on the number of passengers or aircraft to be handled.  In the case of Paris Orly it is 30 mppa [xi] ; Amsterdam Schiphol is restricted to 44 mppa and 33 m tons of cargo.  All of the five airports serving the city of London face operational caps.  Stansted Airport, London's third gateway has been the fastest growing airport in Europe; it now serves 11.2 mppa, and has planning consent for 15 mppa.).  Heathrow is awaiting planning consent for a fifth terminal.

No airport wants to lose out on attracting, retaining, and accommodating future growth as it brings major economic benefits. Airport operators realize however, that in order to be competitive they must aim for harmony with the environment.

Amsterdam Schiphol Terminal Entrance
| | |
| --- | --- |
| Airports are often considered a "necessary evil", but there is a lot they can do to counterbalance or minimize negative environmental effects they have on a city's population.  View graph for London Heathrow's noise impact: | |
Many airports now have their own Environmental Management Plans and can get internationally certified (ISO 14000).  Environmental measures on airports can entail reduction in waste, noise, and air pollution. Energy consumption can be reduced through efficient building design. (i.e. by using natural lighting or by avoiding level changes).
Noise exposure, besides air pollution, is one of the biggest "evils" associated with airports.  It is in an airport's best interest to keep noise at tolerable levels and to minimize the impact on surrounding communities.  Insulation for housing is one important aspect.  Strategic planning to restrict any residential development falling under the impact of an airport's noise footprint is another. 
Amsterdam Schiphol Airport has a rigorous Environmental Plan, which includes nighttime curfew and the usage of particular flight paths to avoid densely populated areas.  However, Schiphol is also said to have too tough environmental measures imposed by the government, including a cap on future passenger growth. 
This might hamper Schiphol's economic competitiveness, and there are arguments for a new airport at sea on reclaimed land, which would alleviate noise exposure and air pollution significantly.

Thanks to international agreements requiring the phasing out of older, noisier aircraft by 2002, "the typical footprint of intrusive aircraft noise per movement around an airport has been reduced by 90%." [xii]  

Other measures include better management of flight paths and the use of preferential runways and take off procedures.
| | |
| --- | --- |
| London Heathrow has a noise curfew between 22:00 and 06:00 to improve the sleep of distressed neighbours. Working with rather than against surrounding communities is essential in ensuring an airport's competitive position and future development potential.  | |
| |                       Constrained site: Heathrow Airport |
5. Rapid (environmentally friendly) linkage to the city
Airports face environmental constraints of noise and air pollution and must plan their growth and/or location accordingly.  Efficient and rapid linkage to the city is vital, especially for remote airports. Achieving high modal splits of passengers and employees using public transport when travelling to the airport is a key objective of most major airports.
For environmental reasons new airports like the new Kuala Lumpur, Milan Malpensa, Montreal Mirabel or Oslo airports are at a distance of 50-65 km from the city.  Rail access is crucial to their success, especially when the older existing airport in the city centre continues to operate in competition with the new one.
| | |
| --- | --- |
| | London Heathrow's operator, BAA, implemented a self- financed convenient rail access system operates "15 minutes every 15 minutes". Enormous strides are taken to increase the patronage to a high percentage of both employees and passengers.  BAA realized its choked access roads and rather time-consuming public transport access by underground threatened its competitiveness as a major airport hub for Europe. |
The chart below shows which airports achieve particularly high public transport modal splits, i.e. Oslo and Zurich.
With Europe's high-speed rail network (i.e. TGV in France, AVE in Spain) becoming ever better connected, rail can serve as important complementary mode to air travel, and enable airports to have access to a wider catchment area.
Worldwide, city corridors are planning on linking their airports to high-speed rail networks, i.e. Washington-Boston in the U.S., Toronto-Quebec in Canada, Beijing-Shanghai in China, Sydney-Canberra in Australia, Taiwan (N-S axis), Moscow-St. Petersburg, Frankfurt-Cologne, Zurich-Geneva to name a few.
Several factors determine the level of public transport usage:
o Airport location
o Congestion on access routes
o Fare price
o Quality and regularity of service
o Policies to promote its use. [xiii]
Most European airports now stride to achieve a modal split for public transport usage of usually 30-50% for passengers and 30-40% for employees.
As airports diversify their roles and strengthen ties with the surrounding regions, being an efficient intermodal transport hub will be a prerogative rather than a core function. [xiv]
5. Airports in the Information Age   
| | |
| --- | --- |
| Improved technology brings relief to congested airport terminals, airfields, airspace, and access systems. Smart technology can accommodate higher passenger volumes in the same space in less time. | |
Smart technology includes:

· E-Ticketing (ticketless travel booked over the internet)

· Intelligent Transportation Systems (ITS) for access roadways and parking

· Remote (downtown or remote parking lot) check-in facilities or via WAP

· Self-Service Check-in Machines

· Biometric Passenger Identification (Ear, Iris, Thumb scan to identify passengers by reading their fingerprints, facial features, voice prints, retinal or iris patterns for passport control, security and ticket ID)

· Sensor coded baggage processing and automated interchange

· CUTE (Common Use Terminal Equipment) system

· Real time travel information on the internet (flight arrival and departure times) or via WAP [xv]

· New systems optimising airfield and airspace utilisation (i.e. GPS)
Manchester Airport features a bar code system which takes digitised photos of passengers when they first enter the airside area, allowing photo verification at any point including aircraft boarding.

At London Heathrow BA passengers can now receive flight arrival and departure information and even check in via their WAP.
6. Streamlining the journey
Us travellers hate queuing and waiting. We want to save not waste time when flying somewhere. We want seamless, non-fragmented trips from door to door, free of hassle and stress. Technology and streamlining the travel process play a significant role in this aspect.
Airports, airlines and cities increasingly cooperate to deliver convenient, reliable and customer friendly public transport. Offering complimentary modes as part of the travel experience helps to streamline a passenger's journey.  Lufthansa, for instance has discontinued its short haul routes from Frankfurt to Cologne, and is offering passengers a convenient high-speed rail journey instead. 
An airports' performance in passenger convenience is viewed as increasingly important. How do we rate our experience at airports? We remember if we felt stressed and worried, how long we had to queue, if we found the goods we wanted to buy, if our plane departed and arrived on time, and if our luggage arrived speedily.

Airport Planners, Terminal Architects, Airport Operators, etc. can do a lot to optimise an airport's functionality and streamline the process for passengers to make it as convenient as possible:

  Queuing at Geneva Airport for rail tickets
o Passenger processing on one floor
o Designs that minimize crowd congestion
o Shortening walking distance by installing moving walkways and escalators
o Offering a well-integrated internal transportation system (people mover system, shuttle bus, and the like)
o Good way finding and signage
o Comfortable waiting areas
o Practical amenities and areas to work, read, relax, and shop 
o Public art and music to enliven sterile spaces
o Easy access
o Choice of on-ward travel modes
As important as on-airport is off-airport planning.  Airport Masterplans should be coordinated with the key city, regional and national strategic planning policies and vice versa.  An airport's facilities "are part of an economic and infrastructure network. Get both right and the airport and the city function best." [xvi]   If we recognize the importance of the nodes an airport represents and we connect these nodes or let them interact at their best, then we as planners help to create a functional city/airport network.  "Regardless of distance, the airport should be well linked to the city centre and to key strategic metropolitan economic nodes." [xvii]
7. What do airport nodes do to our perception of space and time?
Interestingly enough, the age of telecommunications, high-speed Internet access, video conferencing, wireless phones, email, etc. has not eliminated the need for air travel.  On the contrary, people travel more due to reduced fares, a more global economy, and the continued need to meet person to person.
As the chart indicates, travel has become increasingly faster over time and has thus shrunk our world!  Through the mid 19th century the average travel speed was 10 miles per hour (m.p.h.) by either sailing ship or horse drawn carriage.  Then steam ships and locomotives were invented achieving a speed between 35 and 65 m.p.h.  In the 1950s, the invention of propeller aircraft made it possible to travel at speeds of 300-400 m.p.h.  When the Jet Passenger aircraft became a reality in the 1960s, its average travel speed was 500-700 m.p.h.  Now at the beginning of the 21st century the latest technological achievements in subsonic aircraft will

achieve speeds just below the speed of sound.

"The world is moving faster and becoming smaller, social scientists say. Nowhere is this more apparent than in the air travel industry." [xviii] See graph of "shrinking world" by D. Harvey [xix] :
8. Conclusion
Related to the topic of this congress, we need to realize that "place still matters.  It is (indeed) one of the ironies of the age: Just as the wonders of communications technology make it possible to conduct all sorts of computer based activities from any corner of the earth, so humanity clusters more into cities than ever before.  Location, which should surely be irrelevant, seems to matter more, not less.  Physical proximity appears to have virtues in commercial life that no amount of technological gimmickry can replace." [xx]
---